Par Bay Big Local was created in 2010 to support the communities of Par, St Blazey and Tywardreath.  It was one of the first "Big Local" areas in the country to be awarded £1M over 10 years, to help support and benefit the local community.  The funding comes from the Big Local Trust that was set up independently from the Big Lottery Fund and holds funding for the area.
All Big Local areas identified a "trusted" partner to help them develop in the early days and we chose to work with the Eden Project, an innovative organisation who have supported PBBL fantastically over the years Par Bay Big Local's Partnership Group are all volunteers, giving numerous hours of their time to help support a range of projects and initiatives in the Big Local area (Par, St Blazey and Tywardreath).
2012 – 2016 Community Awards
We have invested in more than 75 different projects and activities – including legacy premises – and continue to support local initiatives that are in line with the aims and ambitions contained in our approved Vision & Plans. We are supported by an experienced Regional Local Trust representative.
Deciding Our Focus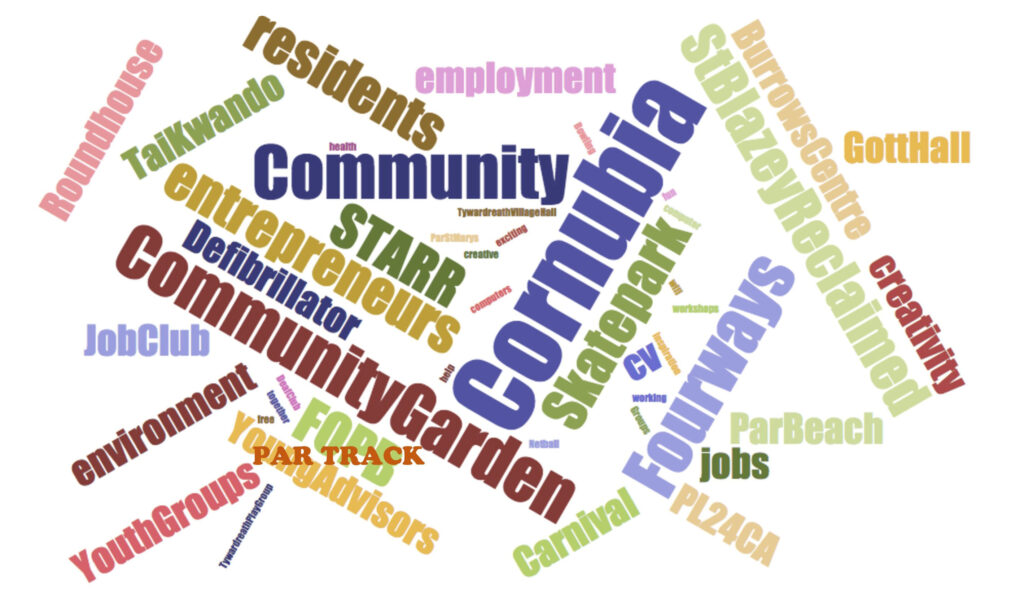 Projects supported recently include St Andrew's Wetland Reserve, plans for STEM (Science, Technology, Engineering and Mathematics) training around the St Blazey Turntable Project, Skatepark, Par Carnival, free textile-based summer workshops run by Tex, Teenage drop-in advice sessions at Cornubia run by Kernow Youth and a Par Bay Community Diary. We have also been approached by Eden with a view to establishing wildflower areas in the Par Bay area.
We are now a strategic partner with Reed in Partnership and can refer any local residents to Workroutes to receive a wide range of support for jobseekers at the weekly Job Club, which takes place on Mondays 9.30 – 4 pm at Cornubia.  We are pleased to announce that a defibrillator , part-funded by PBBL, has been fitted on the wall between Boots and Cornubia.
Par Bay Community Trust was formed as PBBL's charitable arm so that Cornubia could be purchased for the long-term benefit of residents across the Par Bay area. Trustees work closely with PBBL to ensure a legacy for the future, supporting the main areas of focus identified during consultations and their own charitable aims which echo the Big Local ethos which is all about community and resident-led decision-making to bring about lasting and sustainable improvements, maximising impact and making the best use of resources and opportunities.
Par Bay Big Local Funding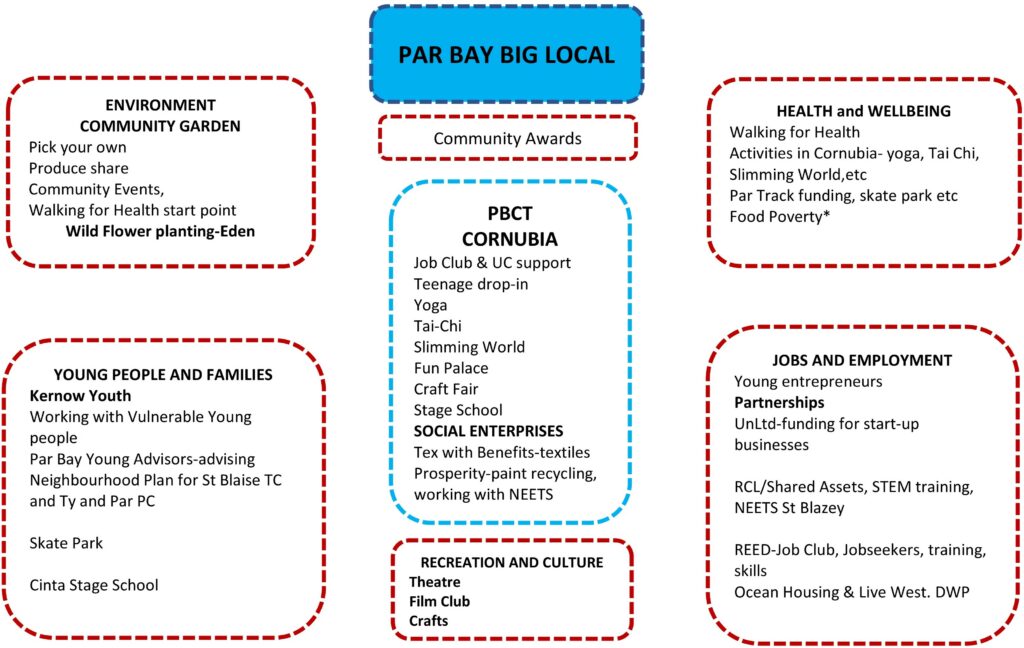 Our old award programme is now closed. The social entrepreneur award programme runs across Par Bay and is a collaboration between Par Bay Big Local and UnLtd. Any one over the age of 18 living, volunteering or working in the Par Bay Big Local areas who wants to start or is growing a venture that will create social benefit is eligible. Contact paulsquires@unltd.co.uk.
This year's focus is Recreation and Culture. For details of the Creative Civic Change project contact Liz Davies at parbaycreative@gmail.com.
For information on the Holiday Hunger project contact Sonia Clyne sonclyne@gmail.com or Liz Davies lizdavies@aol.com.
For other details contact biglocal@edenproject.com.
Measuring Change Report